FOLDER 5: "A Diamond in the Rough:
A History of Rib Lake by One Who Loves Her"
The Rib Lake Historical Society's major goals include a publication of an expanded, up-to-date history of the greater Rib Lake area. It will cover the Village of Rib Lake, the Towns of Rib Lake, Greenwood and eastern Westboro in Taylor County, and portions of the Towns of Spirit (Formerly Brennan) and Hill in Price County. Present plans call for a book in two volumes with a target date for publication of 2015. Robert P. Rusch will author the volumes, which have been tentatively titled "A Diamond in the Rough: A History of Rib Lake by One Who Loves Her".
This book will be profusely illustrated with photos, maps, and documents; everyone having loaned such materials will be named. Chapters will include the Kennedy family, featuring JJ Kennedy, the founder of Rib Lake, The Rib Lake lumber company, as well as numerous other logging concerns, the huge Rib Lake Tannery, railroads including the Soo Line connecting Rib Lake and Tomahawk, and explanation of area, place, names, and a lot-by-lot illustrated history of former businesses along Rib Lake's "Main Street", McComb Avenue. The goal is to produce a well-researched, clearly written, professional work. To this end, anyone noting errors within this website is encouraged to contact Robert P. Rusch.
Book #1 "Taylor County" will feature 180 quality photographs of Rib Lake. It will be published by Arcadia Publishing, the leading local history publisher in the United States, about November 2013. You can check its status at www.arcadiapublishing.com.
---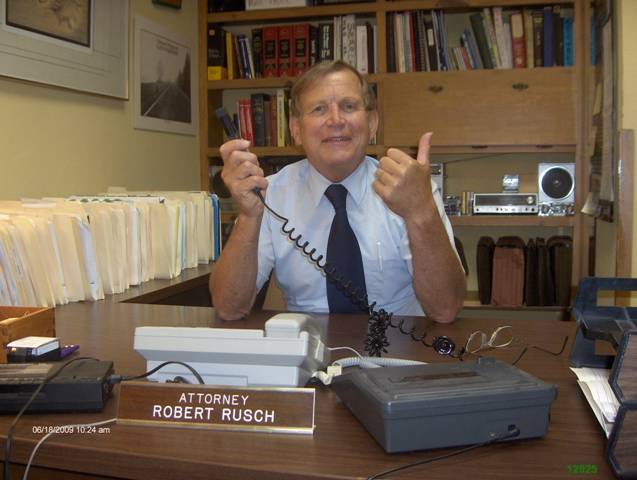 Photo of Attorney Robert P. Rusch at the Rusch & Rusch Law Office, S.C., Medford, Wisconsin, June 18, 2009.
---