FOLDER 7: RLH: KENNEDYS-MOVERS AND SHAKERS:
CAST OF CHARACTERS TO EARLY RIB LAKE HISTORY
Data is from the Rib Lake Herald unless otherwise noted.
By: R.P. Rusch and Cindy A. Sommer
Cross References: The authors have scanned thousands of photos and documents of Rib Lake history. Each item is indexed and assigned a number. Such items are referenced here by their identification number, e.g. #10999. These images may be accessed at www.riblakehistory.com, at folder #8 - Photo & Document Collection.
"K is for Kennedys – my there is a stack of 'em,
Yet in other places there is a lack of 'em,
Now is our chance to get a good whack at 'em."
--From the 1910 Twentieth Century Club "Primer," #13563--
---
To view the document, "Kennedys - Movers & Shakers", click here:
---
Below is a preview of the document:
I. JOHN J. KENNEDY "J.J." 12/24/1845 – 4/12/1928
Founder of Rib Lake.
Born 12/24/1845, at Monroe's Mills, Cornwall, Ontario, Canada

[1]

.
Immigrated to U.S. in 1860.

By Oct. 30, 1876, is married and living in Spencer, WI.
Died April 12, 1928, at his home in Portland, Oregon.

Married Flora M. McLennan, a.k.a Mary Flora, a/k/a Mary Flora McLennan, 10/28/1847 – 1/31/1910.
11/7/1880, Star News:

"J.J. Kennedy and brothers will lumber on Yellow River in this [Taylor] county the coming winter."
4/23/1881, Star News: "The Kennedy brothers, who have been putting in logs on the north fork of the Yellow River [in Taylor County], left a crew of men to take advantage of the flood."
6/1881:

In the History of Rib Lake by Guy Wallace, #11889B, Wallace explains that in the summer of 1881 J.J. Kennedy had a chance meeting with George Curtis of the Curtis & Carpenter Lumber Firm of Wausau; J.J. explained his intention to open up a lumber mill east of Prentice: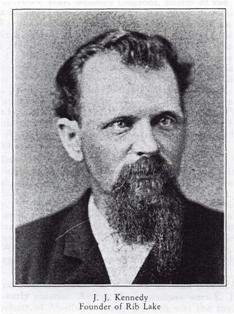 ---
[1] See Document #12629: Obituary of John J. Kennedy 4-12-1928, for a variety of details. A copy of the obituary is printed in full at the end of this article.
---