FOLDER 13: Webmaster
Scott Riggs is the webmaster for the riblakehistory.com website. He is the son-in-law of the founder of the Rib Lake Historical Society, Robert P. Rusch. If you have any questions, comments, or ideas for the site, please email Scott at scott.riggs6@gmail.com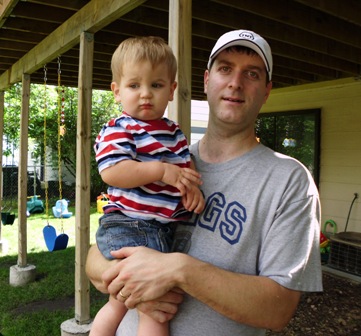 Scott Riggs (with son, Colton) in June 2010
Scott has been employed at Best Buy Co. (Richfield, MN) since 2007. His present role is Logistics Specialist in the Best Buy For Business division. He grew up in New Hope, MN, and graduated from Robbinsdale Armstrong High School in Plymouth, MN in 1987. Scott received a B.A. in Communications from St Cloud State University in St Cloud, MN in 1993. He was married to Robin (Rusch) Riggs, in September 2003. They have four children (Kirstin, Trinity, Brendan & Colton), and live in Crystal, MN.
The Riggs 6
(l to r) Kirstin, Scott, Colton, Trinity, Robin, Brendan
He has also been the webmaster for the website www.riggsopen.com, which keeps track of all of the lore of the Riggs Open golf tournament. 2011 marked the 28th annual Riggs Open.